Every year, we work with Fuller's Sugarhouse to develop an integrated marketing campaign to highlight their pure NH maple products and encourage customers from all around the country to purchase quality, locally sourced products. Like most retailers, the holiday season is very important to the Fullers, but they face a challenge because of their remote location and rely heavily on online sales.
Prior to the launch of this year's holiday marketing campaign, extensive SEO was done to Fuller's website. We researched key words that people use when searching for maple products and adjusted the copy on the website accordingly. We used Google Analytics and other Google Tools to observe the behaviors of web visitors. This research and back-end work helped to send signals to Google, proving that Fuller's Sugarhouse was a legitimate maple syrup producer, which increased their quality scores and organic website traffic.
As thorough SEO work was being done, a marketing plan was also being developed. The marketing campaign featured multiple advertising mediums, with each publication being chosen for its audience and ability to laser focus on Fuller's Sugarhouse products as a gift idea. We implemented the following mediums:
Radio Advertising
Print Advertising
Digital Advertising
Email Marketing
Social Media (paid and unpaid)
Postcard Mailing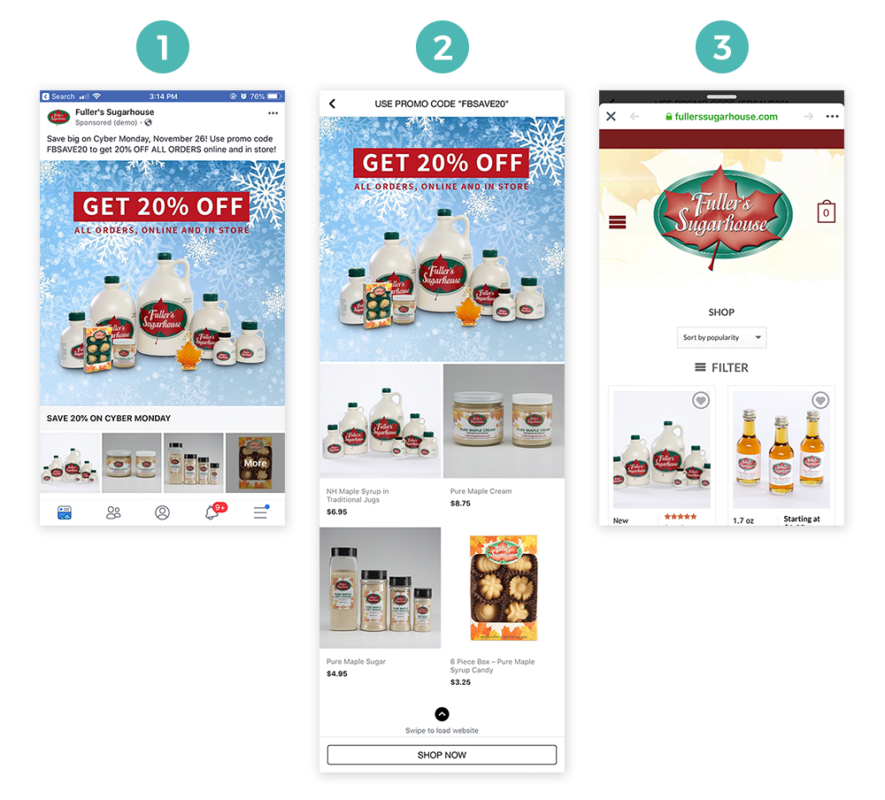 This image shows the process a user would go through after seeing a Fuller's Sugarhouse ad on their Facebook newsfeed (1), the Instant Experience that would open up (2) and how they would be able to then shop on the Fuller's website using the promo code.
Each week beginning on November 9th, Fuller's offered a different sale on their pure maple products. Every sale and advertising medium had a custom promo code and Google tracking URL so we had the ability to monitor the success of each sale and each medium it appeared on. We reported on the results of each sale on a dashboard.
Through the extensive SEO work that was done prior to the big holiday shopping push and the careful selection of advertising mediums for this campaign, organic search became the #1 source referral appearing in their Google Analytics statistics. This means that traffic arriving from an unpaid source (for example, online searches) out-performed any referral sources (such as paid advertising).
Because of the work we completed as part of their Holiday Marketing Campaign, Fuller's Sugarhouse was 1 of 52 businesses (1 per state) recognized by Google for their economic impact in utilizing web and digital tools to grow their business. This is a huge honor and we are very excited about this accomplishment.
Here's to more sweet and successful endeavors with Fuller's Sugarhouse!