Sullivan Creative assists in the production of the commemorative 150th anniversary book for the Mount Washington Cog Railway
It was three years in the making… but, The Mount Washington Cog Railway, White Mountains, New Hampshire, a 120-page full-color, coffee table-style book is finished!
The world's first mountain-climbing cog railway celebrates its 150th anniversary this summer – and what better way to commemorate this milestone than with an anniversary book loaded with photographs that capture the Mount Washington Cog Railway experience.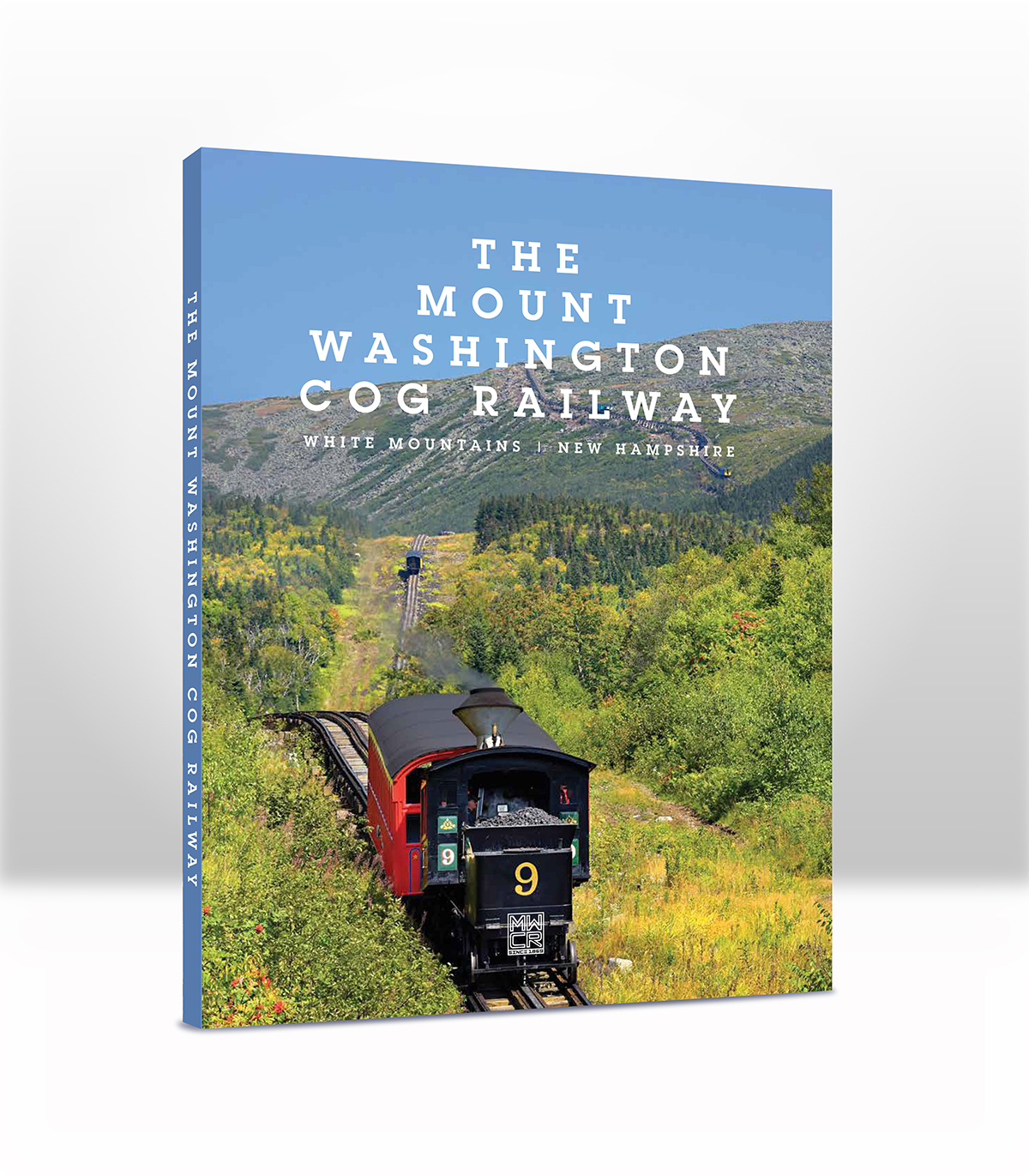 Pam Sullivan of Sullivan Creative oversaw the creation of this book along with Rebecca Metcalf of the Mt. Washington Cog Railway. Jay Philbrick, Philbrick Photography took all of the images you'll see in the book. Doug Hamer was the designer and Eileen Alexander was the writer. The book was printed in Massachusetts and bound in New Hampshire, making it a true New England-based project.
The book's photographs capture The Cog in all four seasons. The dramatic landscape of Mount Washington and the surrounding peaks and valleys provide a constant backdrop for the colorful trains and coaches as they ply their way up and down the mountain. Several pages of the book's center unfold for a panoramic display of the mountain vistas that have remained virtually unchanged since The Cog's first ascent in 1869.
The book is available for purchase in both hard and soft cover versions in The Cog's Base Station gift shop.

About the Mount Washington Cog Railway
Built by veterans of the Civil War, the Mount Washington Cog Railway was the brainchild of inventor and New Hampshire native Sylvester Marsh, who invented the cog mechanism that provides the traction necessary for the train to ascend the mountain. A century and a half later, the only cog railway currently operating in the United States continues to provide an incredible experience for visitors who step aboard — much like those first passengers on July 3, 1869.
The Mount Washington Cog Railway is a must-do New England adventure. Passengers travel in coaches with intricate wooden interiors to the summit of a peak known for having the world's most challenging weather. However, on a clear day, views extend from the Atlantic Ocean into Canada as the train reaches the summit. Along the way, the knowledgeable brakemen provide colorful commentary on everything from flora and fauna to the weather extremes of the mountain.
A key icon of New Hampshire's heritage, The Cog maintains its traditional roots with today's passengers taking the three-hour round-trip pushed up the mountain by vintage coal-fired steam locomotives or by one of seven modern biodiesel engines, all designed and built by the railroad's staff. The railway was designated a National Historic Engineering Landmark in 1976 and was referred to as "One of the greatest wonders of all time" by the Boston Transcript in 1869. It can certainly be argued that this is still true today.