How Sullivan Creative brought the NHLA's website to full bloom
Phase 1: Planting the Seeds & Growing the Roots
Similar to how a significant amount of a plant's initial growth is underground, the process of building a website also has a quite a bit of 'behind the scenes' growth. After an initial kick-off meeting with New Hampshire Landscape Association, we got to work redeveloping their website.
Our team established three looks for the client to review and then began researching the appropriate backend plug-ins to meet the website's needs (such as the ability to have a backend member database, fillable application forms and an online calendar). SEO research was also started to help determine keywords and concepts of how people search for various landscaping needs. These were incorporated into website copy to increase organic search results and website performance scores.
The work done in the initial phase of creating a new website needs to be thorough and well-thought-out to truly build ground roots and ensure a successful launch in the following weeks.
Phase 2: Watering & Budding, Showing Signs of Life
Plants need nurturing and attentive care to grow strong and be sustainable; website development is a similar process. But once the ground roots are established in both processes, we can really start to see signs of life.
We began importing content from their previous website and adjusted/re-formatted to fit the new website's layout. New sections were added to the website, so additional content was written to populate those sections. Further SEO work was done including adding meta tags and alt text to all images. The backend member database was programmed and the fillable forms were created. Google Analytics code was placed on all pages of the website and the events calendar was installed and populated. Before the website was sent to the client for their approval, cross-browser testing was conducted.
Yes, the bulbs are beginning to glow, but there's still some last minute adjustments to be made.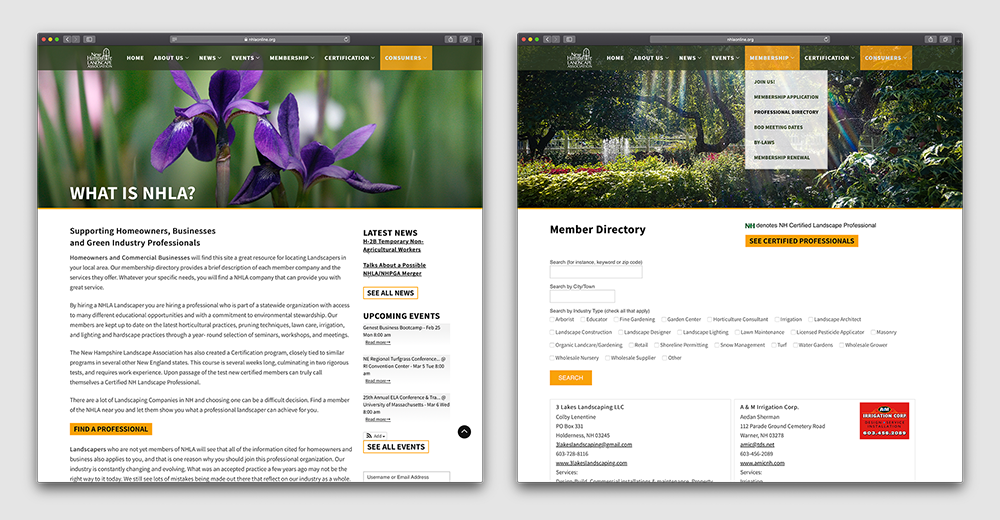 Phase 3: Blossoming and Flourishing into a Robust, Online Organism
After NHLA reviewed the website, and a few weeds were picked out – or bugs in the system –we began to populate the site. We held a WordPress training session with two members of the NHLA Board to help them get accustomed to making edits to the website. Sullivan Creative continues to to help support and monitor the website and make adjustments as necessary. Stop and smell the roses – check out the website for yourself: www.nhlaonline.org.
Disclaimer: We are a marketing agency and in no way think we have a green thumb for landscaping, but we certainly do have a green thumb for generating excitement and delivering results for our clients!